__________________________________________________________________________
Tired of not achieving everything you deserve?
...And ready to create the most successful version of your brain?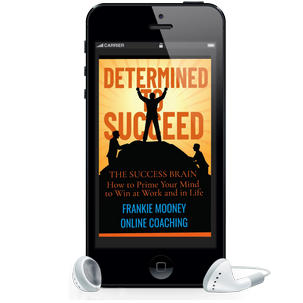 In 2002, Frankie was tasked by the Government to design and launch an enterprise in education program. Two decades later, the lifelong learning strategy continues to form part of education syllabus bringing together young people and business all over the country.
As a successful entrepreneur, Frankie has discovered the truth about success and goal achievement. Thousands of participants are using the success strategy that finally works (without SMART goals!) and now you can use the same systematic approach to create and achieve your goals.
Frankie says learning how to be successful is a process. This program will guide you in this process. It begins with the development of an effective mindset and concludes with a plan for living the best year of your life!
Learn More
The program can be viewed as a library of Frankie's strategies and tools that when used will create a highly successful version of your brain. It all begins with your mindset and learning how to be comfortable with success. You will learn to deal with the negative beliefs that stand in your way and develop a systematic approach to creating and realizing goals. Healthy and unhealthy habits can make or break your success journey, so identifying and neutralizing the beliefs that cause this behaviour is so important (and cathartic!) - it's the gamechanger.
Finally, we'll put all the information together and create a plan for living the best year you've ever had!
In this program, you'll learn:
● How to unlock the "Determined To Succeed" mindset.
● Secrets to ELIMINATING the fear of failure.
● How to BREAK AWAY from self limiting thoughts.
● How to live the BEST year of your LIFE.
● Secrets to developing EMPOWERING habits.
● How to replace negative habits with POSITIVE habits.
● And more!
This has the power to change EVERYTHING!
Are there requirements or prerequisites for this program?
There are no prerequisites for this program. It's open to anyone with the desire to live a more exciting, satisfying, and successful life.
Your success in this program depends on your ability to put the information into action. The information is simple, but understanding the information is insufficient. The application of the information is all that matters in the end.
What benefits will I receive from this program?
You'll create a mindset that is naturally attracted to success.
You'll come to know your own, personal version of success.
Y
ou'll learn how to create effective goals and how to make them a reality.
You'll understand how to eliminate negative habits.
You'll learn how to install new habits that support your goals.
You'll have a strategy for putting all the information together to create the best year you've ever had.
Is there a particular audience that this program is geared toward?
This program is geared toward those who desire to be more successful and create the life of their dreams.
Anyone that wants to learn how to be a more effective version of themselves will benefit greatly from this course.
Remember, you'll learn how to:
● Create a mindset that pursues success and isn't afraid of failure
● Attack limiting beliefs
● Eliminate self-limiting thought patterns
● Create intentions and goals that match your personal version of success
● Defeat negative habits and create new, empowering habits
● Create a plan for living the best year of your life