__________________________________________________________________________
Sick of not making progress on your dreams?
...And ready to conquer EVERYTHING that stands in your way?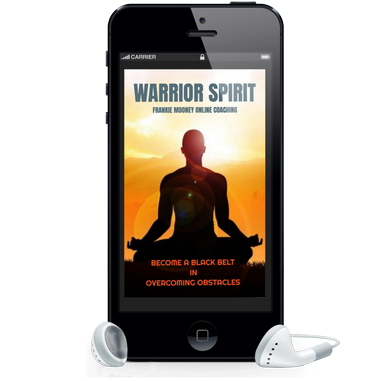 Powerful people strive to conquer every challenge in life, love, family, and career. These people are also the happiest and most joyful. They know that when they pursue their DREAMS, they are on the path to happiness.
They are FOCUSED on pursuing their passions. They WON'T let anything stop them. And because of their warrior spirit, they WILL succeed.
Growing up, we often hear ""It's too hard to do that", "Only a few people manage to achieve that", "Wealth is only possible for the select few", "You can't be the next Steve Jobs, Oprah Winfrey, Mark Zuckerberg…" and as an adult you can still hear it, being passed along generation to generation.
Frankie will teach you how to break through what holds you back. To put your fears aside and go all-out for your dreams. To let absolutely NOTHING stand in the way of your dreams. To stop living someone else's life and start living YOUR life. Ending the cycle of limitation.
Learn More
What's stopping you from reaching your goals? This program teaches you proven strategies to get past whatever's holding you back.
Frankie begins by giving you action tips that will enable you to overcome many types of setbacks, including fears, hopeless situations, failures, and more. You'll discover the fastest way to resolve challenges, how to use creativity when you're up against a wall, and tips that help you to believe in yourself even when you're struggling.
Frankie then shows you some tricks to motivate yourself to do great things and continue that motivation throughout your journey to achieving your goals.
Next, you'll learn techniques that will help you persevere until you reach your goals. You'll find your reasons that keep you from quitting when the going gets tough.
In wrapping up the program, you'll discover solutions for obstacles, clarify the details of the life you want to live, and enjoy effective personal motivation as you write your own success story.
In this program, you'll learn:
●
The SURPRISING ways to achieve your goals regardless of your obstacles.
● How to REMOVE every fear that you encounter.
● How to get CREATIVE when you start hitting a wall.
● How to BELIEVE in yourself when you feel frustrated.
● Techniques for OVERCOMING failure to reach the success you deserve.
● How to be SELF-MOTIVATED every single day.
● The secret reasons GRIT always triumphs over talent.
● The SURPRISING alternative to quitting.
● How to WRITE your own success story.
● And so much more!
This powerful journey could absolutely change your life.
Are there requirements or prerequisites for this program?
There are no prerequisites for this course. It's open to anyone who wants to increase their satisfaction in life by learning to overcome obstacles and challenges.
Your success in this course depends on your willingness to take action. Take the time to do the suggested self-reflections and exercises.
What benefits will I receive from this program?
You'll find out how to overcome any obstacle you encounter.
You'll discover a lot about yourself and why you are the way you are.
You'll learn how to passionately pursue your dreams and go all out after them.
You'll understand that your fears never need to hold you back from your goals.
You'll achieve new levels of daily motivation.
You'll develop the courage to confront the obstacles that previously held you back.
You'll discover how to push through times when you lack enthusiasm.
You'll see how to create a grit mindset that will push you to the top.
By striving to conquer your obstacles, you can build a life you love, reduce stress, strengthen your relationships, build a more satisfying career, and increase your happiness and fulfillment in life.
Is there a particular audience that this program is geared toward?
Those who want to pursue their dreams, conquer their fears, and build a life they truly love. Those who are tired of being held back and want to do what they love.
Remember, you'll learn how to:
●
Let NOTHING stop you from accomplishing your goals
● PURSUE that dream you've been thinking about so long
● FINALLY conquer your fears
● Learn to CONFRONT all obstacles and push past them
● STOP putting things off and START making forward progress today