__________________________________________________________________________
Are you longing to break free from the pain of loss, betrayal, or your last breakup?
...And ready to learn how to build the life you know you DESERVE?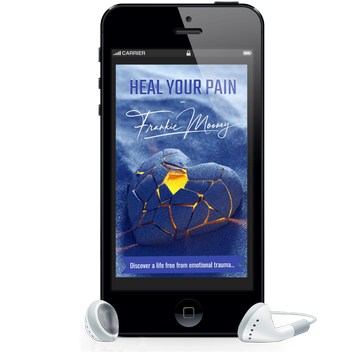 Everyone has been hurt in relationships. Breaking up is hard. Few people are able to let that pain go so they can move on with their lives without the past messing with their happiness.
People have a tendency to get caught in their anger and pain after they've been hurt. There are mental, emotional, and physical reasons why it is difficult to release this pain.
One area that can make it difficult to release the past is the misunderstanding of what forgiveness is. People often think forgiveness absolves the other person of anything that happened. You'll discover this is incorrect.
Frankie's strategies and exercises to release the past range from recognizing your personal power, nurturing yourself, changing your thoughts, and discovering how to manage your feelings. You will heal the hurt, leave your last relationship behind and find joy again. You will discover a life free from emotional trauma again and the freedom to build the life you want.
Learn More
You CAN experience joy but only when you are able to release the pain that emotional baggage can bring.
But it requires one thing from you…
In order to seek healing, you first need to make the conscious decision to choose change.
Once this commitment is made, you can be focused on healing what needs to be healed. You can avoid the hamster wheel that causes pain over and over and you can finally experience what it feels like to thrive emotionally, physically, and spiritually.
In this program, you'll learn:
●
The SURPRISING ways you can work with the chemistry of your body to stop the negative effects of loss
● How to OVERCOME the myth that happiness is only for the few
● How to ELIMINATE negative emotional programming from your trauma
● How to PREPARE yourself for a bright future
● Techniques to MOVE from pain to freedom
● How to ACCEPT what happened without feeling the pain
● How to DETERMINE what you need to heal
● How to identify CHALLENGES to your healing journey
● STRATEGIES to leave the pain behind
This powerful journey could absolutely change your life.
Are there requirements or prerequisites for this program?
There are no prerequisites for this course. It's open to anyone who desires to know more about how to release the pain of the past.
Your success in this course depends on your ability to put the information into action. The information is simple, but understanding the information is insufficient. You have to be willing to do the exercises and implement the strategies in your life.
What benefits will I receive from this program?
● You'll learn why releasing the past is difficult and what you can do to make it easier for yourself.
● You'll learn the emotional, mental, and physical causes of your pain.
● You'll discover misconceptions about forgiveness.
● You'll receive specific strategies and exercises to assist you in letting go of your pain and moving forward toward the life you want.
Is there a particular audience that this program is geared toward?
This program is geared toward those who are tired of hurting from broken relationships, betrayals, and loss and are ready to take action to release that pain.
Remember, you'll learn how to:
● Let NOTHING stop you from letting go of your emotional trauma
● PURSUE the life you've been longing for
● Overcome ALL the negative thoughts, emotions, and behaviors that have held you back
● FINALLY learn to work through the emotional challenges of your loss
● Learn what YOU want from your life
● STOP putting it off and begin RELEASING the pain today