__________________________________________________________________________
Sick of struggling to cut calories?
...And ready to start losing weight the SIMPLE way?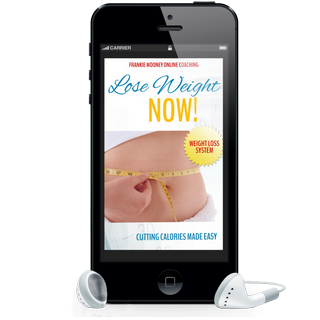 We hear things often like
"The only way to cut calories is to starve ourselves!",
"You need a special diet to cut calories!",
"Maintaining your ideal weight is REALLY hard!",
"You can't be fit if you don't eat right!",
"You can't be the person you want without crazy sacrifices!",
"Losing weight should always HURT!" and then we feel stuck, caged and imprisoned by our schedule and job and family life and body type and genetics!
We need to find EASY ways to be fit; to develop a LIFESTYLE of fitness.
We need to get healthy without devoting HOURS and hours to it. We need SIMPLE ways to cut calories.
In Frankie's weight loss program, you're going to lose weight and keep it off. You'll even burn fat and shed pounds without exercise.
Eating clean and losing weight is the new diet plan and it doesn't include
strict diets, pills, supplements, special drinks, or feeling deprived.
Learn More
The program starts off with a bang as you learn 25 ways to slash calories on the sly in the very first session. The fun continues with ways to enhance your motivation and shop wisely at the grocery store during your weight loss journey. You will learn how you can even benefit from taking a break from your diet.
Frankie shares strategies for cutting calories by when and how you eat. He shares calorie-cutting secrets for eating slower, controlling your portions, and eating in moderation and you will learn how to cut calories in drinks as well as food.
In the second part of the program Frankie shares with you effective tips, tricks, and techniques for coping with your eating triggers such as emotional eating, environmental triggers, and late night cravings. You'll also discover ways to avoid those frequent trips to the (high-calorie) drive-thru or ordering out, even if you hate to cook.
Continue your calorie-cutting journey with ways to use your body's natural processes to control hunger, increase your self-control, and maintain your weight loss as you move forward.
As with any program, the secret to your success with this program lies in taking action to implement the new strategies you've learned. To this end, you'll find handouts like affirmations, tracking charts, motivational prints, and more throughout the program. Also, each session ends with a short exercise to help you get started using the tips in that session..
Finally, we'll put all the information together and create a plan for living the best year you've ever had!
In this program, you'll learn:
● How to g
reatly reduce the amount of calories you consume, without feeling deprived
● Eat in moderation, without leaving from the table still hungry
● Schedule a full day of meals and snacks, without racking up the calories
● Include your favorite foods, without sabotaging your efforts to lose weight
● Cope with stress, boredom, and negative feelings, without splurging on junk food
● Increase your self-control
● Maintain your target weight in the future
●
And so much more!
This powerful journey could absolutely change your life.
Are there requirements or prerequisites for this program?
There are no prerequisites for this program. It's open to anyone who wants to increase their satisfaction in life by learning to lose weight and cut calories easily.
Your success in this program depends on your willingness to take action. Take the time to do the suggested self-reflections and exercises.
What benefits will I receive from this program?
You'll find out how to easily incorporate healthy eating into your life.
You'll discover secrets that can supercharge your weight loss efforts.
You'll unlock techniques that will have you cutting calories from sunup until sundown.
You'll understand how to eat smart during any part of the day.
You'll learn how to shop the smart way.
You'll discover how to cut calories without feeling deprived.
You'll create the life you long to live.
Is there a particular audience that this program is geared toward?
Those who are frustrated with trying to lose weight and cut calories, and those who think that losing weight and cutting calories are really difficult.
Remember, you'll learn how to:
●
Stop struggling to lose weight and start actually making PROGRESS
● LOSE that nagging fat that you haven't been able to get rid of
● Learn techniques and secrets for making healthy eating EASY
● Get past the weight loss OBSTACLES that have always stopped you
● Create a HEALTHY and active lifestyle